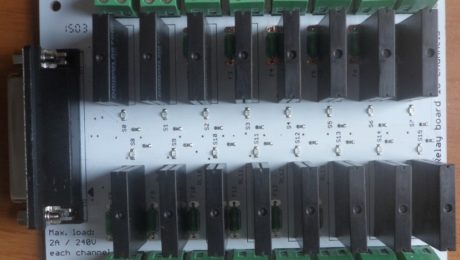 The Solid State Relay Board was Designed to be plug and play for Ferduino Mega 2560 and allows control of until 16 AC high-voltage loads.
The board have a connector DB-25 where you can connect a serial cable with length until 300 cm. Also have terminal blocks to turn the connection of AC loads easy.
Have a green LED indicator to each relay.
Electrical specifications:
Solid State Relay (SSR)
Manufacturer: OMRON;
Part number: G3MB-202PL,12 V version;
Load Voltage: 100 to 240 Vac;
Maximum Load Current: 2 A;
Operating Time Maximum: 1/2 cycle of voltage sine wave: 1 ms;
Power Consumption: 12 V @ 12 mA;
Isolation: Phototriac;
Zero cross: No;
Operating Temperature: -30 to 80°C (-22 to 212°F);
Humidity: 45 to 85% RH non-condensing.
LED indicator
Power Consumption: 5 V @ 14 mA.
Power supply
SSR: 12 V @ 192 mA (all ON);
LED: 5 V @ 224 mA (all ON)
Control:
The LED and SSR are activated with LOW (GND) signal.
Documents:
Schematic: Solid State Relay Board
Pin mapping: PinMap
Wiring for AC load: Wiring for AC load
Package Contents
1 X Solid State Relay Board 16 channels;
1 X Serial cable male / female 300 cm.
Warranty and return
This board have warranty against defective materials or workmanship for 3 months from the date of original purchase. Proof of purchase is required. This warranty does not apply if, in the our judgemental, the board fails due to damage from shipment, handling, storage, accident, abuse or misuse, or if it has been used or maintained in a manner not conforming to product's instructions or has been modified in any way.
If you are not fully satisfied with your board, we will accept a return and will credit the purchase price paid for the product (freight charges and return freight not included) if the board is free of obvious damage due to rough and/or improper handling within 30-days of purchase.
The product should be shipped to an address provided after authorization of return. Customers are responsible for the freight charges to Ferduino Aquarium Controller. We suggest using a carrier that provides tracking information. Ferduino Aquarium Controller isn't responsible for packages lost in transit to us. The replacement product is shipped by ground with shipping charges prepaid. Expedited shipping is available at extra cost.
Shipment and payment:
Shipment from Brazil.